*** WHEN CONTACTING US MAKE SURE WE HAVE DISCUSSED GROUP DISCOUNTS . ***
All rates for our camps include:
1.) Food – Hot cooked breakfast and dinner in our large cook tents (a sack lunch when hunting in the field).
2.) Lodging
 – Both of our camps are equipped with large wall tents, each with cots, mattresses and wood stoves. Our main camp also has wood floors in the tents, electricity and other amenities that add to the comfort.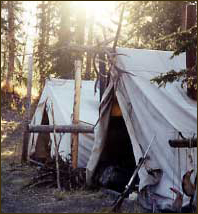 3.) Horses and Tack – All our camp hunts are done from horseback. We provide all the tack necessary, including scabbards, saddlebags and the works. If you have any of your own tack please feel free to bring it.
4.) Guides – We try to maintain a 2 to 1 hunter to guide ratio. (If you prefer a 1 on 1 hunt it will be $150 per day charge)
5.) Game Care and Processing – We pack your game out of the mountains, and transport to the processor (if you want). There are processors in Jackson and Thayne that we use regularly. You can choose depending on timing and type of packing you want. Cost of game processing and shipping are the responsibility of the hunter.
6.) Transportation – We will pick you up at the Jackson WY airport and take you back when the hunt is finished. You can also fly into Salt Lake City, UT and Idaho Falls, ID and rent a car for those looking for alternatives.