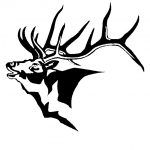 Wyomings Premier Outfitter  BG-181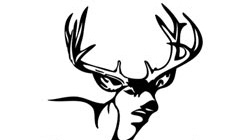 WYOMING MULE DEER HUNTING & WYOMING MULE DEER HUNTS
Eli Hale:         +1 208 351 2240
Alan Yeaman: +1 208 270 1160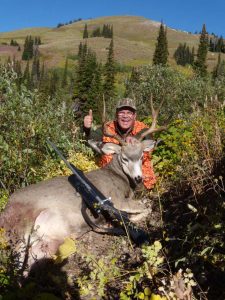 Western Wyoming's Mule Deer herd
 is the best it has been in several years and expected to continue to do well. Mule deer may be hunted from our high camp or town.
From our camps we have access to some areas that have traditionally produced some great trophy heads year after year. Wyoming Mule Deer hunting can be combined with elk, antelope or moose hunts to make a truly great all around trip. If you have questions, please send us an inquiry now.
Town hunts are excellent because we have the option to hunt a great deal of different territory. We can trailer to different hunting areas each day. Town hunts are great for Deer and Elk when the snow is deep and we cannot hunt from our high camp. Plus you can enjoy getting back to the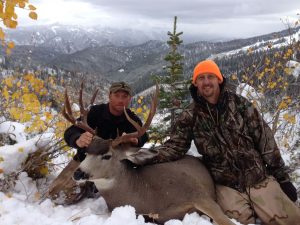 comforts of home each night.
We offer 7 day hunts for Deer, ( if other arrangements need to be met we will try our best to accommodate). We also schedule combination Archery/Rifle hunts for both Deer and Elk. These are 7 or 10 day hunts, where you begin archery hunting on the last 4 days of the archery season and if unsuccessful then switch to rifle to finish your hunt. These combination hunts are best from the High Camp. For more information, see our 
Wyoming Deer Hunting
Ra
tes
.
WYOMING MULE DEER HUNTING AT ITS BEST!
If you are interested in a truly great and affordable Wyoming Mule Deer huntingexperience contact us for availability for one of our camps. Double Y Outfitters hunting area is located on the western slope of the pristine Teton Mountain Range in the Bridger National Forest. We provide hunters with the unique experience of hunting the remote back country. Here's a Gallery of some of our successful clients.