Hale Outfitting  is permitted to operate in Bridger-Teton National Forest and holds Wyoming Outfitter license BG # 181. We offer a variety of Elk and Deer hunts and hunting options. Your hunting partners are Eli Hale and Alan Yeaman (third and fourth generation Star Valley hunting family). We are not just outfitters but hunters who love the outdoors and want to offer GREAT hunting at affordable prices to those that want to experience the wonderful Wyoming area. Bud and his dad started Big Game outfitting in the Star Valley/Jackson Hole/Teton areas in the early 1950's and bring 60 years of hunting experience to the operation.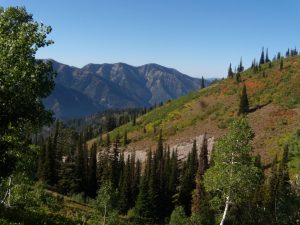 We are very fortunate to have exceptional Elk quality and the longest season to hunt them. If you hunt with us you will see that we are one of the few places in the United States where you can hunt elk with a rifle right in the midst of their rutting season. We are also fortunate to have a resident heard of Elk to hunt due our geographic location near two of Wyoming's largest feed grounds. We offer 7 and 10 day hunts for Deer and Elk. We also schedule combination Archery/Rifle hunts for both Deer and Elk. These are 7 or 10 day hunts, where you begin archery hunting on the last 4 days of the archery season and if unsuccessful then with the opening of the regular season a rifle is allowed. These combination hunts are best from the High Camp.
PACK-IN HIGH CAMP
If you want to hunt the high country, our upper camp is just the place. It is accessible on horseback only, a ten-mile horse ride in and magnificent hunting from there. We offer 7 and 10 day hunts for Deer and Elk. This is also a great camp if you are lucky enough to draw a tag for a Mountain Goat (Area 2) or Big Horn Sheep (Areas 6 & 7) You can also add a Bear tag (Purchase over the counter after you get here) while you hunt Deer or Elk. Due to the rugged terrain, hunters going to this camp should have basic riding skills and be in good physical condition.
Our base camp is accessible with 4WD trucks, yet it is in great country with plenty of game. From this camp we can accommodate both the hunter that wants to hunt the high rough stuff as well as the hunter that prefers a more relaxed hunt. There is plenty of good game for both due to our location to the elk feed grounds and the Snake River hunting range. This camp provide great access for hunting Moose in Area 20.
Both of these camps offer comfortable tent living with wood stoves, cots to sleep on and good home cooked meals along with a great atmosphere to enjoy the Wyoming Mountains during the best time of the year. You can expect to hear the bugling of bull elk during the late part of September as the elk are in heavy rut during this time. It's a great way to catch up to some of the trophy bucks that hang around the elk herd during the rut.
If you are interested in some excellent hunting and still be able to have the comforts of home, we offer hunts based
from our home town of Afton WY as well as from Jackson Hole. These are excellent hunts because we have the option to hunt a great deal of different territory due to the fact we can trailer to different hunting areas each day and are great for Deer and Elk when the snow is deep and we cannot hunt from our high camp.Over the years these hunts have proven to be very productive especially for Antelope in the Kemmerer District of South Western Wyoming. Our areas (93 and 100) for Antelope has produced B & C heads consistently. On the town based hunts you are responsible for lodging and meals. We provide the trucks, trailers, horses, tack and guides. We have good working arrangements with various lodges in both Jackson and Afton at affordable rates.
We pride ourselves in giving a value added hunting experience. We will try to match a hunt with your skill level and your schedule. Send us an inquiry now.
Here's a few pictures of our Wyoming Hunting guides, camp and area.