Our hunt area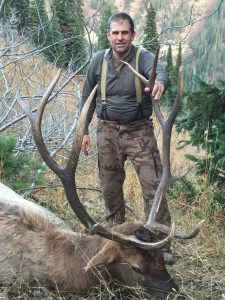 s are well known for the trophy heads that they have consistently produced over the years along with the abundant number of elk. With a resident herd of Elk we do not depend on the snowfall or a migration to have good elk to hunt. The elk are there all year round with the main feed ground not far away. Our upper camp is set high up off Wolf Mountain where the deer and elk really do roam. We have more information on our Wyoming Elk Hunting camps.
The Elk population in Western Wyoming is extremely healthy and our hunt area is no exception. With a resident herd the weather is not an issue with our camps. The success rate for our camps over the years is 80% with several trophy mounts taken each year. Send us an inquiry now about Wyoming Elk Hunting.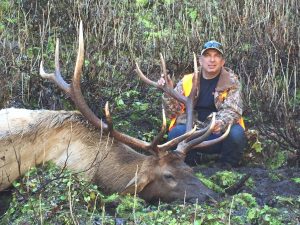 If you like to archery hunt, our Camps offer some great areas for the season's BIG BULLS. We also schedule combination Archery/Rifle hunts for both Deer and Elk. These are 7 or 10 day hunts, where you begin archery hunting on the last 4 days of the archery season and if unsuccessful then switch to rifle to finish your hunt. These combination hunts are best from the High Camp.
For more information, see our Wyoming Elk Hunting Rates.